A MIDDLE GROUND : Mediation or Reconciliation?

www.midground.me.uk
Return to Home
Mediation Page
To Beliefs Page
SOME BOOKS
Books where you may find useful information are listed here in addition to ones in the videos, and covering a spectrum of views. Inclusion of any books and weblinks is not meant to imply acceptance of any or all of their content, but to allow for further discussion. If you can't watch videos, most of the relevant information can be found via the Links.
Mostly available from Amazon UK or Amazon USA

Before Forgiving: Cautionary Views of Forgiveness in Psychotherapy ed. by Sharon Lamb, Jeffrie G. Murphy

Family Therapy in Britain ed. by Eddy Street, Windy Dryden

Forgiveness and the Healing Process: A Central Therapeutic Concern ed. by Cynthia Ransley, Terri Spy

Forgiveness pages at TopazLine which include a short Booklist

Secrets in the Family by Lily Pincus, Christopher Dare

The Secret Life of Families by Evan Imber-Black

The Trouble with Blame: Victims, Perpetrators and Responsibility by Sharon Lamb

You Can Go Home Again by Monica McGoldrick

I Thought We'd Never Speak Again: The Road from Estrangement to Reconciliation by Laura Davis 'maps the reconciliation process through first-person stories of people who have mended relationships in a wide variety of circumstances. In these pages, parents reconcile with children, embittered siblings reconnect, angry friends reunite, and war veterans and crime victims meet with their enemies... Davis explains how people can make peace in relationships without necessarily forgiving past hurts.'

Note: Laura Davis co-authored The Courage to Heal: A Guide for Women Survivors of Child Sexual Abuse. Although it has been helpful to survivors of abuse, it has recently been the subject of controversy. We feel the views and research in I Thought We'd Never Speak Again are worth considering.
Prozac: PANACEA OR PANDORA? by Ann Blake Tracy, Ph.D.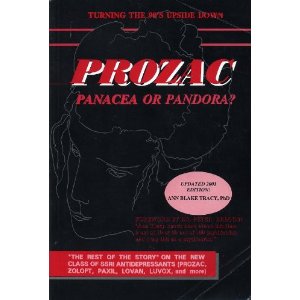 The product of five years of research, and the study of the cases of approximately 1,000 patients on a long-term basis. The author holds a Doctorate in Biological Psychology, and heads the only support group in the state of Utah for those who have suffered adverse reactions to the SSRI drugs such as prozac, paxil, zoloft, luvox, effexor, serzone, anafranil & the diet pills - fenfluramine, fen-phen & redux.
"Brain wave patterns indicate patients [taking psychiatric drugs such as prozac, paxil, zoloft, luvox, effexor, serzone, anafranil & the diet pills - fenfluramine, fen-phen & redux] are in a total anesthetic sleep state while appearing awake and functioning. Increasing serotonin - exactly what these drugs are designed to do - induces both nightmares and sleepwalk. Patients report over and over again that they have lived out their worst nightmare. And as with sleepwalk episodes, many have no recall or little recall of what they have done. Often someone must prove to them what they have done while they where under the influence of these drugs before they will believe it to be true. One patient stated that he could not detect during his two year use of Prozac what was real or what was a dream."
"Although initially increasing concentration and energy, patients [on drugs such as prozac, paxil, zoloft, luvox, effexor, serzone, anafranil & the diet pills - fenfluramine, fen-phen & redux] report long-term effects of impaired memory and concentration and mental disability. Learn the reasons why large numbers of Prozac patients report FALSE memories of ABUSE. As disruption of serotonin alters perception, reality and dreams SEEM one and the same, creating a STRONGER hypersuggestable state than hypnotism."
"Elevated levels of serotonin (5HT) - exactly the chemical these [SSRI] drugs do increase - is the same chemical that LSD, PCP and other psychedelic drugs mimic in order to produce their hallucinogenic effects. Have these drugs turned the 90's upside down for us to relive the 60's? Learn that elevated levels of serotonin are found in schizophrenia, mood disorders, organic brain disease, Alzheimer's, anorexia, autism, bronchial constriction, etc."

Try to Remember: Psychiatry's Clash Over Meaning, Memory, and Mind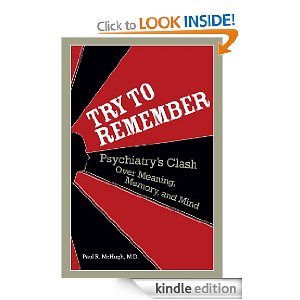 In this thought-provoking account, McHugh explains why trendy diagnoses and misguided treatments have repeatedly taken over psychotherapy. He recounts his participation in court battles that erupted over diagnoses of recovered memories and the frequent companion diagnoses of multiple-personality disorders. He also warns that diagnoses of post-traumatic stress disorder today may be perpetuating a similar misdirection, thus exacerbating the patients' suffering. He argues that both the public and psychiatric professionals must raise their standards for psychotherapy, in order to ensure that the incorrect designation of memory as the root cause of disorders does not occur again. Psychotherapy, McHugh ultimately shows, is a valuable healing method—and at the very least an important adjunct treatment—to the numerous psychopharmaceuticals that flood the drug market today.

An urgent call to arms for patients and therapists alike, Try to Remember delineates the difference between good and bad psychiatry and challenges us to reconsider psychotherapy as the most effective way to heal troubled minds.
The Devil's Children

ed. J.S. La Fontaine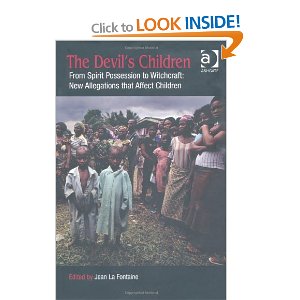 A number of cases of serious child abuse have resulted from beliefs that children may be possessed by evil spirits and may then be given the power to bewitch others. Misfortune, failure, illness and even death may be blamed on them. The 'cure', nowadays called deliverance rather than exorcism, is to expel the spirits, sometimes by violent means. This book draws together contributions on aspects of possession and witchcraft from leading academics and expert practitioners in the field.

See chapter by Sherrill Mulhern 'Embodied alternative identities: Spiritual possession, psychiatric disorder or socio/political stratagem?'
ADVICE to PARENTS and CHILDREN (p.119 Counselling or Quackery?)

William Burgoyne quotes pages 631-637 of Mark Pendergrast's book Victims of Memory (available from Amazon) on some considerations when trying to build trust within families affected by allegations of abuse.

Summaries of chapters from Victims of Memory are online http://markpendergrast.com/victims-of-memory-table-of-contents

Click here for A Summary of Myths and Realities on Memory and Therapy
And www.fmsfonline.org/fmsf96.330.html#mediation
FAMILY RECONCILIATION THROUGH MEDIATION Susan P. Robbins, D.S.W. University of Houston,
appearing in FMS Foundation Newsletter Vol 5 No. 4, April 1, 1996
Author Meredith Maran has written a book entitled My Lie due for publication on 22 September 2010, available for pre-order online at Amazon UK and W H Smith, see www.meredithmaran.com/MyLie.htm Psychology Today excerpt, September/October 2O1O: My Lie www.meredithmaran.com/media/psychtoday.pdf
If you have suggestions to make on how people may proceed - with or without help from outside, please do
Recommended Reading
Making Minds and Madness by Mikkel Borch-Jacobsen
Feet of Clay by Anthony Storr (about Gurus - including Freud and Jung)
Divided Minds & Successive Selves by Jennifer Radden
First Person Plural: Multiple personality & Philosophy of mind by Stephen E Braude
I: the philosophy and psychology of personal identity by Jonathan Glover
Memory and Abuse by Charles Whitfield
Multiplicity: the new science of personality by Rita Carter
Open to Suggestion by Robert Temple
Pillar of Salt by Janice Haaken
Searching for Memory by Daniel Schacter
Suggestions of Abuse by Michael Yapko
Theater of Disorder: Patients, doctors, & the construction of illness by Brant Wenegrat
The Plural Self: multiplicity in everyday life by John Rowan, Mick Cooper
The Saturated Self: dilemmas of identity in contemporary life by Kenneth Gergen


Broken Boundaries, Stories of Betrayal in Relationships of Care by Sarah Richardson, Melanie Cunningham et al
Shouldn't I be Feeling Better by Now? ed.Yvonne Bates
Counselling or Quackery? by William Burgoyne (see post on previous Page)
Madness Explained: Psychosis and Human Nature by Richard P. Bentall & Aaron T. Beck
Manufacturing Victims: What the Psychology Industry is doing to People by Tana Dineen
House of Cards: Psychology and Psychotherapy Built on Myth by Robyn M. Dawes
Therapy Culture by Frank Furedi

Fish in a Barrel by Grace Towers
Sexual Abuse by Health Professionals by P. Susan Penfold
Out of Bounds: Sexual Exploitation in Counselling and Therapy by Dr Janice Russell
Patients as Victims: Sexual Abuse in Psychotherapy and Counselling by Derek Jehu
Breach of Trust: Sexual Exploitation by Health Care Professionals and Clergy ed. John C. Gonsiorek
Falling for Therapy: Psychotherapy from a Client's Point of View by Anna Sands
Boundaries and Boundary Violations in Psychoanalysis by Gen O. Gabbard, Eva P. Lester

Dorothy Rowe has written a variety of books on subjects to do with human emotions and relationships and getting help. Many are available in book stores, and new or secondhand from www.amazon.co.uk

New Attacks on Psychotherapy article by Phil Mollon at www.philmollon.co.uk/NEWattacksonpsychotherapy.html

Guidelines for Seeking Help and Self-Help are at www.tansal.org.uk/guidelinesforhelp.html

Playlists on 'theCojent' Youtube channel, and also on 'Survivorway' - for Survivors of all kinds

Stop Bad Therapy site www.stopbadtherapy.com

Talking Cure - useful information & links relevant for the UK at www.talkingcure.co.uk (site of Dr Douglas McFadzean & associates)

VEX organisation for support, info and links at http://website.lineone.net/~vex/

WITNESS (formerly POPAN) YouTube channel WITNESS2007
'Users and Abusers of Psychiatry: A Critical Look at Psychiatric Practice' by Lucy Johnstone:
Using real-life examples and her own experience as a clinical psychologist, Lucy Johnstone argues that the traditional way of treating mental illness can often exacerbate people's original difficulties leaving them powerless, disabled and distressed.

In this completely revised and updated second edition, she draws on a range of evidence to present a very different understanding of psychiatric breakdown than that found in standard medical textbooks.
https://www.amazon.co.uk/Users-Abusers-Psychiatry-Critical-Psychiatric/dp/0415211565/ref=sr_1_1?s=books&ie=UTF8&qid=1310297720&sr=1-1
Return to Home
Mediation Page
To Beliefs Page
Useful site on Memory Research
Jim Hopper's site on Memories and notes about seeking help is at www.jimhopper.com/memory/ A range of useful information about memory research, showing that experts are divided, and there is not likely to be any one answer. He gives some cautions:

Words of Caution I
* Research and theories about amnesia and delayed recall for childhood sexual abuse are extremely controversial.
* All statistics and interpretations of these phenomena are disputed by some experts.
* Complex and subtle scientific issues are involved, including criticisms of research methods and theory-based interpretations of research findings and clinical observations.
* The most controversial issues are:

1. How common are amnesia and delayed recall for sexual abuse experiences?
2. How do we understand the evidence? For example, do people "simply forget" sexual abuse just as they might temporarily forget any other unpleasant experience, or are different brain mechanisms and psychological defensive processes involved?

* Emotions and moral commitments influence everyone's reasoning and judgement to some extent.
* Even experts who claim to be without bias are fooling themselves or trying to fool you.

Words of Caution II
See in full at www.jimhopper.com/memory/#caut2
A pdf download for this section is available at www.jimhopper.com/pdfs/MemoryConcerns.pdf




HOW ABUSE can be REMEMBERED or RECOVERED
Further References

Any information and links appearing here are included simply in the hope they may be useful to some readers. Not everyone has the same experiences or needs, or is likely to believe in the same things. The purpose of this Site and items mentioned is that people can take what is useful for themselves and their situation, and try to move on from there, with or without engaging in therapy or following a particular approach.

This list appears on the site of Michael C Irving The Child Abuse Survivor Monument (some of these offer alternative or conflicting views on these difficult issues. Follow what makes sense for you or your situation, or maybe that of someone close to you.) http://www.irvingstudios.com/child_abuse_survivor_monument/Remembering.htm

Bayin, Anne. "Falsely Accused: False Memory Syndrome is Wrecking Families and Destroying the Credibility of Genuine Sexual-Abuse Victims." Homemaker's Magazine, September 1993, vol. 28 no. 6, p. 44-6, 48+.

Bower, Bruce. Sex abuse: Direct Approach May Aid Recall." Science News (US), October 19, 1991, vol. 140 no. 16, p. 245.

"Sudden Recall: Adult Memories of Child Abuse Spark a Heated Debate pt.1." Science News (US), September 18, 1993, vol. 144 no. 12, p. cover, 184-6.

Brown, Laura. Subversive Dialogues. New York, N.Y.: Basic Books, 1994.

Eigenkind, Heidi. "Bearing Witness: A Questioning of the Politics of Memory". Canadian Woman Studies, Fall 1991, vol. 12 no. 1, p. 21-4.

Fraser, Sylvia. "Abuse Wars: Whose Memory Matters? Betrayal Trauma: The Logic Of Forgetting Childhood Abuse." Globe and Mail, January 25, 1997 pD14 (English).

Herman, Judith Lewis. Trauma and Recovery. New York, N.Y.: Basic Books, 1992. xi 276

Kandel, Minouche and Eric R. Kandel. "Flights of Memory: Can Memories of Long-Ago Abuses Be Lost? Once Lost, Can They Be Found Again?" Discover, May 1994, vol. 15, no. 5, p. 32, 34-8.

Martin, Sandra. "You Must Remember This: -- War Raging Around Recovered Memories." Chatelaine (Eng), September 1997, vol. 70 no. 9 p.40-1, 43+ (English).

Moore, Tom. Angels Crying: A True Story of Secrecy and Tragedy. Nimbus Publishing Ltd. 1995.

Penfold, P. Susan. "Repressed Memory Controversy: Is There Middle Ground? Canadian Medical Association Journal, September 15 1996, vol. 155 no. 6, p. 647-53.

Terr, Lenore. Unchained Memories: True Stories of Traumatic Memories, Lost and Found. New York, N.Y.: Basic Books, 1994.

Woodward, Kenneth L. "Was It Real Or Memories? The Collapse of Charges Against A Cardinal Raises Questions About 'Assisted' Claims of Sexual Abuse." Newsweek, March 14, 1994, vol. 123 no. 11, p. 54-5
Counselling or Quackery - True or False?
Abuse in Therapy or Helping Relationships

Our Children - Whose Investment?
Project Caressing: A Cause for Concern?

Mirror Neurons, Cults, Persuasion, Therapy, Help
Links to Playlists on Youtube

Visit the False page at www.whorls.org.uk for links on:
False confessions, Eye witnesses; Miscarriages of Justice;
Allegations of abuse, Memories; Therapy Culture